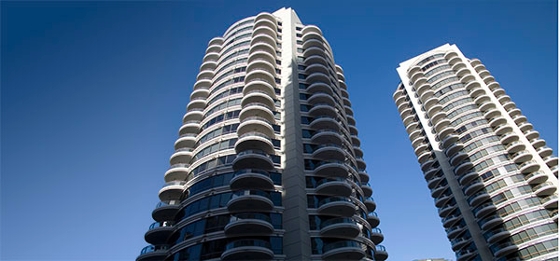 In the midst of a correction, experts identify silver-lining investment opportunity
Buy low. Sell high. It's the quintessential mantra of successful investors.
And for those who have long sought to execute this philosophy in Calgary's real estate market, a window of opportunity may be opening thanks to weak oil prices – particularly in the apartment-style condominium sector, which has seen inventory levels skyrocket in 2015.
According to CREB®'s recent monthly housing forecast, months of supply in the apartment sector increased to 6.9 per cent in November, causing benchmark prices to slide
0.5 per cent from October to $287,000. Meanwhile, year-over-year prices were off by 4.6 per cent.
By comparison, months of supply in the detached and attached sector sat at 3.4 and 4.8, respectively.
"Now, as oil prices have dropped, layoffs have increased and population influx has slowed, the demand for properties of all types has slowed, including new condos," said Don Campbell, a senior analyst with the Real Estate Investment Network.
Although it's less positive news for sellers, it represents an opportunity for renters and buyers alike – in particular investors who may be able to acquire income-generating apartment properties at a discount from the peak of the market more than a year ago, said Campbell.
"The upsides are simply that the patient investors will have a chance over the next six to 12 months to find good solid deals in good solid buildings from people who had bought on speculation or who are less experienced at managing rentals in a slower market," he said.
BMO senior economics Robert Kavcic believes the local housing market is in for a continued rough ride, primarily due to low, albeit now stable, oil prices.
While the downturn, which is only now "rippling through the real economy," will impact supply in Calgary's housing market, it will also influence demand.
"We're starting to see more job losses and eventually that's going to translate into fewer people moving there," he said.
Canada Mortgage and Housing Corp. (CMHC) is forecasting only 18,000 people will move to Calgary by the end of 2015 compared with more than 36,000 last year.
"That (migration) has traditionally been a strong support for the local real estate market," said Kavcic. "If that dries up, there will not be as much demand on the rental side and that will create more vacancy."
Canadian Home Builders' Association – Calgary region president Wendy Jabusch, however, believes the city's housing market is well prepared to face energy sector woes – largely due to favourable conditions on the supply side.
Specifically, she notes Calgary has lacked adequate supply of apartment rentals for years – dipping under one per cent for most of last year, before rebounding to more than five per cent this past fall.
"We haven't had any significant number of new units built for some time," she said.
Jabusch also points to rules that govern new multi-residential high-rises, which require a percentage of units to be pre-sold before breaking ground.
"That alleviates some of the concern the ones under construction now will be overbuilt," she said.
Real estate market analyst Frederic Blondeau said while there might be deals to be hand in Calgary's current housing market, he urges investors to also consider the overall picture.
In particular, he points to the capitalization rate, a key metric for apartment high-rise rental properties, which has "not moved much since the beginning of the downturn." In fact, "cap rates" – which are calculated by dividing annual net operating income of a property by its value, have increased slightly over the last year.
Calgary is the only market with rising capitalization rates over the last year — which signal its growing riskiness, said Blondeau.
He also notes this measure of return on investment is still below most other such as Montreal, Ottawa and Edmonton.
For astute investors, good properties will always be available at a discount – especially those properties that cater to younger buyers, said Campbell.
"Given the demographic shift toward younger average age, the best long-term performers will be properties with two or three bedrooms, nearer to transit in areas," he said, noting that because these properties can meet current and future demand, they are more likely to yield steady income.
Campbell added investors should weigh both demand and income potential more heavily in their decision than the market price of a property.
"Investing means that the property provides enough income to cover all of its operating and financing costs and provide the owner with an income," he said, adding otherwise investors are gambling on oil rebounding quickly and along with it property values.
"Inexperience in this market can lead to some very poor decisions such as buying based on 'price discount' from what it used to sell for. That may be a good way to buy a car or clothes, but is a terrible way to justify a property purchase."